Take your racing experience to the next level. The Thrustmaster T300 RS GT Edition racing wheel & pedal set, officially licensed by Gran Turismo, is designed for the PS4 and compatible with PS3 and PC. The metal steering wheel, reinforced with rubber for better grip, features 1080° Force Feedback mechanism and an industrial-class brushless motor for realistic, smooth force feedback effect. A set of three pedals, including accelerator, clutch and brake pedals, feature metal internal structure for realism and durability, along with the brake pedal offering progressive resistance. Plus, with the Quick Release system, you can easily detach the steering wheel and switch to other Thrustmaster wheels (sold separately) for even more customization.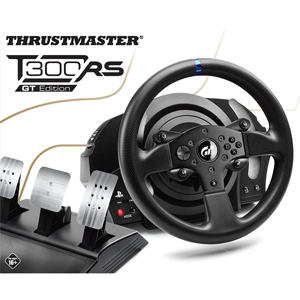 Detachable Racing GT Style Wheel
The detachable, realistic 11 inch/28 cm diameter racing wheel has rich appealing features such as reinforced textured rubber cladding on the wheel's entire circumference, official GT Logo in the center of the wheel, and comprehensive driving controls – 13 action buttons (including 2 on the base) + 1 D-Pad. Official PlayStation4 buttons are included (PS, SHARE, OPTIONS) to let you access the new social features by instantly switching between the game and the system, at any time.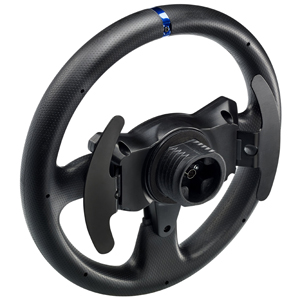 2 Large, Wheel-Mounted Sequential Paddle Shifters
Sequential gear shifts are facilitated by the two large (5" / 13 cm high), 100% metal wheel-mounted sequential paddle shifters and a super high-end tact switch (lifespan of more than 10 million activations).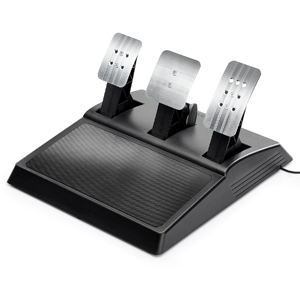 T3PA – GT Edition Pedal Set
For this special GT EDITION, and even greater realism, the pack includes the T3PA – GT EDITION PEDAL SET, featuring three pedals and a 100% metal internal structure. Accelerator and clutch pedals are adjustable in height and spacing. The brake pedal has progressive resistance and comes with a Conical Rubber Brake Mod.
Industrial-Class Brushless Servomotor
Under the hood there's nothing less than a genuine brushless industrial Force Feedback servomotor (with frictionless action), providing super-smooth and seamless Force Feedback. The motor's silence allows you to completely focus on what matters – namely, premium performance on the road. Enjoy ultra-responsive and realistic Force effects, with no latency.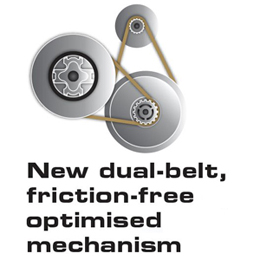 New Dual-Belt System
The new 1080° dual-belt system delivers super-smooth and quiet Force Feedback with incredibly responsive, realistic Force effects: feel the road, not the wheel's internal mechanism.
H.E.A.R.T. HallEffect Accurate Technology
Thrustmaster's development teams have added precision to the motor's impressive capabilities by incorporating H.E.A.R.T HallEffect AccuRate Technology. It features a contactless magnetic sensor to provide 16-bit resolution, for 65,536 values on the wheel's steering.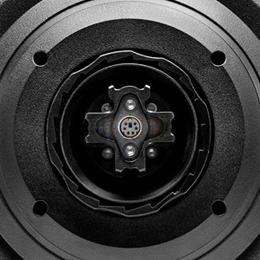 Thrustmaster Quick Release System
The Thrustmaster Quick Release system lets you quickly switch from one wheel to another – in just a few seconds. This innovative concept gives wheel base owners the option of purchasing separate detachable Thrustmaster wheels, for use with their existing base. Enjoy optimal realism in all types of races!
Ecosystem-Ready
Compatible on PS4, PS3 & PC with detachable Thrustmaster wheels** (599XX EVO 30 Wheel Add-On Alcantara Edition, TM Leather 28 GT Wheel Add-On, Ferrari F1 Wheel Add-On, Ferrari GTE Wheel Add-On, etc.).
Compatible on PS4, PS3 & PC with Thrustmaster 3-pedal pedal set T3PA-PRO**.
Compatible on PS4, PS3 & PC with the TH8A shifter** (TH8A – Thrustmaster TH8 Add-on).
** Sold separately